WELCOME
TO
CHampions Of the Mac Proletariat

CHampions Of the Mac Proletariat (CHOMP) is a registered Apple User Group in the West Inland Empire and East San Gabriel Valley serving all members of the public interested in hardware and software products related to Macintosh, Performa, PowerPC, and PowerBook computers.

We are not meeting at this time.
A Mac User Group, SMUG, meets in LaVerne on the second Monday of each month at the Community Center in LaVerne at 12:30 p.m.

Telephone Contact
Myron Chapman at (909) 624-5426

Class

The Claremont Adult School has a class on Macintosh Basics periodically during the year. Contact the Claremont Adult School office, 2475 N. Forbes Ave, in Claremont for details.







Our officers from several years ago, :
Jerry Williams, Myron Chapman, Bill Srack, Craig Richards, Al Seltzer, Mitch Cohen,
Manny Alva, Martha Ridgeway, Elliot Weinstein, and Tim Bruck.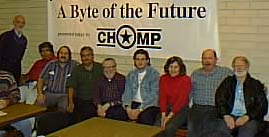 *****************************



For a web site with lots of Mac information, user group information, resources, and links, and late information, see the User Group Network, at
http://www.user-groups.com



---
This Home Page is brought to you courtesy of Claremont's own
Ultimate Internet Access,

Call (800) 982-6898 for information.

They provide an ISP with access to assistance as close as our phone.

We appreciate their hosting this web site for all of us.

Revised: October 31, 2007